Donnald Family to Charleston
from the
American Pioneer Series
By Jeannette Holland Austin
Donalds, South Carolina, formerly Donaldsville, was named after Samuel Donnald who came to America with his father, John and settled there about 1800. John Donnald was born in 1780 in Ballynure, County Antrim, Ireland. The Donalds were settling near the township of Boonesborough, named after the English Quaker frontiersman Daniel Boone between 1763 and 1775. This settlement had entered the port of Charleston from Ulster and when surveyed in 1762 consisted of 20,500 acres. This early settlement served as a buffer between the Cherokee Indian tribes and immigrants in the South Carolina low country. To qualify to settle in Boonesborough one had to be a Protestant of good standing. Thus, the Scotch-Irish from Antrim were perfect for this settlement.
Click here to receive Free newsletter to your email



How to Trace Your Family Tree...free, may be distributed, copied, etc.
Baker (digital images)
Index to Wills 1868-1918
Index to Inventories 1868-1918
Bartow (digital images)
Bartow County Will Index 1836-1885
Inventories, Appraisements, Distributions, Sale Bills 1853-1866
Bryan (digital images)
Charlton (digital images)
Index to Wills 1868-1901
Index to Letters of Administration, Letters of Guardianship 1879-1889
Washington (digital images) - Records destroyed, no wills
Index to Divisions of Estates, Letters of Administration, Guardianship 1829-1876
Index to Inventories 1846-1862
Index to Letters of Guardianship and Apprenticeships 1829-1876
Index to Annual Returns 1843-1890
Folder Collection
- Brown, Coburn, Spalding, Stuart,
Folder Collection
- Dixon, Legg, Sanders, Tillman.
Folder Collection
- Allen, Wright; Dixon, Hal; Bryan; Collins, Joseph; Dixon, Hal, Hugh Woody, Howard Briten; Petty; Heath; Peyton, John; Poteat;Stanley; Wynns; Long, Henry W.; Murfree, William H.; Hill, Harry; Walton, Isaac; Cowper, Richard I. Waite;
Gedcom Files
; you can view and/or download - Adair of Georgia, South Carolina and Virginia; Camp/Camps of America, begins 1559 in England (356,752 bytes); Evans of DeKalb County and Anderson County, South Carolina.
Estates and Wills
Amherst Co. Wills (abstracts) 1762-82
Bedford Co. Wills (abstracts) 1763-1775
Campbell Co. Wills (abstracts) 1782-1801
Fairfax Co. Wills (abstracts) 1740-1749
Grayson Co. Wills Index
Loudoun Co. Wills (abstracts) 1761-1774
Norfolk Co. Court Orders 1675
Prince William Co. Wills (abstracts) 1734-1742
Rockbridge County Wills (abstracts) 1778-1790
Folder Collection
- Claiborne,Cocke, Cockrell,Darnell, Hilkey,Kindred, King,Massie, Ransom,Ryley,Watkins
Books Added -
Bone Connections by Dorothy Holland Herring and Jeannette Holland Stucki (1970), 35 pp.; The Family Record of John Cooper 1778-1909 Arranged by Sarah Edna Cooper Holtzclaw (1909); Copeland Genealogy 1913, 900 years, begins in France, 21 pp.; Early History of the Daniel and Daniels Families in Europe and America by Henry Dudley Teeter (1920), England, Scotland, Massachusetts, 13 pp.; Ormsby with allied families of Abbe, Knowlton, Carpenter and Griswold, of Massachusetts and Rhode Island, 22 pp.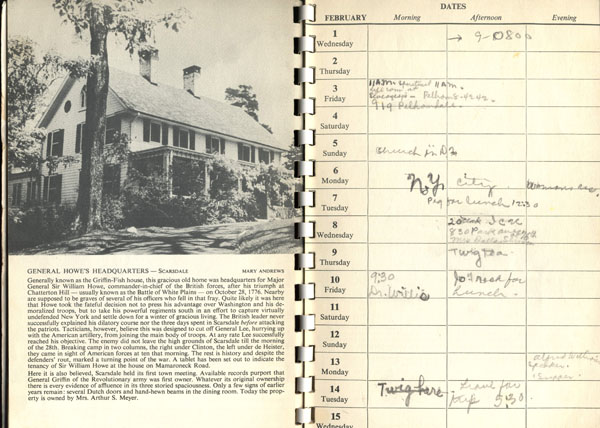 Westchester, a New York State Date Book, historical photographs