Tobler of New Windsor Township, Beech Island, Aiken County, South Carolina
from the
American Pioneer Series
By Jeannette Holland Austin
About 1735 a group of 200 settlers headed by John Tobler came from Switzerland with the promise of land grants along the Savannah River. They settled in a place known as New Windsor Township on Beech Island (Aiken County). In his group were the families of Jacob Sturzenneger, David Zubly, Jasper Nail and Leonard and Ulrich Meyer. John Tobler was the Governor-General in Appenzell district, Switzerland until politics caused him to want to leave the country. Tobler was born 1695 in Switzerland. He was well known in New Windsor as the writer of an almanac, astronomer, musician, and owned a store on the bluff overlooking the Savannah River near the present-day site of the Sand Bar Ferry Bridge. Tobler's wife, Anna, died in New Windsor on March 23, 1768 but at least 8 of his children remained in the area.
For a more complete genealogy: South Carolina Pioneers
Among the first to make their way up the Savannah river and settle was a group of 200 Swiss headed by John Tobler. In his group were the families of Jacob Sturzenneger, David Zubly, Jasper Nail and three Meyer brothers, Leonard, Ulrich and Micael. They chose to settle in New Windsor Township which included the sites of the British Ft. Moore and the Indian village of Savanna Town. The area today is known as Beech Island, SC adjacent the Georgia city of Augusta. Though no marked graves of these original Swiss settlers can be found, their children and grandchildren are buried in Beech Island cemeteries such as the Nail Family Cemetery, Zubly Cemetery, Ardis Cemetery and other old cemeteries. In addition to these markers, artifacts of these original settlers remain and many original records exist as reminders to the descendants of these early colonists.
Click here to receive Free newsletter to your email




NEW INFORMATION - Latest Additions to GA, NC, SC, KY, VA Pioneer websites
Wills and Estates
Edgefield County Wills 1775-1835 (abstracts)
Gedcom Files
; you can view and/or download - Adair of Georgia, South Carolina and Virginia; Camp/Camps of America, begins 1559 in England (356,752 bytes); Evans of DeKalb County and Anderson County, South Carolina.
Baker (digital images)
Index to Wills 1868-1918
Index to Inventories 1868-1918
Bartow (digital images)
Bartow County Will Index 1836-1885
Inventories, Appraisements, Distributions, Sale Bills 1853-1866
Bryan (digital images)
Charlton (digital images)
Index to Wills 1868-1901
Index to Letters of Administration, Letters of Guardianship 1879-1889
Washington (digital images) - Records destroyed, no wills
Index to Divisions of Estates, Letters of Administration, Guardianship 1829-1876
Index to Inventories 1846-1862
Index to Letters of Guardianship and Apprenticeships 1829-1876
Index to Annual Returns 1843-1890
Folder Collection
- Brown, Coburn, Spalding, Stuart,
Folder Collection
- Dixon, Legg, Sanders, Tillman.
Folder Collection
- Allen, Wright; Dixon, Hal; Bryan; Collins, Joseph; Dixon, Hal, Hugh Woody, Howard Briten; Petty; Heath; Peyton, John; Poteat;Stanley; Wynns; Long, Henry W.; Murfree, William H.; Hill, Harry; Walton, Isaac; Cowper, Richard I. Waite.
Estates and Wills
Amherst Co. Wills (abstracts) 1762-82
Bedford Co. Wills (abstracts) 1763-1775
Campbell Co. Wills (abstracts) 1782-1801
Fairfax Co. Wills (abstracts) 1740-1749
Grayson Co. Wills Index
Loudoun Co. Wills (abstracts) 1761-1774
Norfolk Co. Court Orders 1675
Prince William Co. Wills (abstracts) 1734-1742
Rockbridge County Wills (abstracts) 1778-1790
Folder Collection
- Claiborne,Cocke, Cockrell,Darnell, Hilkey,Kindred, King,Massie, Ransom,Ryley,Watkins
Books Added -
Bone Connections by Dorothy Holland Herring and Jeannette Holland Stucki (1970), 35 pp.; The Family Record of John Cooper 1778-1909 Arranged by Sarah Edna Cooper Holtzclaw (1909); Copeland Genealogy 1913, 900 years, begins in France, 21 pp.; Early History of the Daniel and Daniels Families in Europe and America by Henry Dudley Teeter (1920), England, Scotland, Massachusetts, 13 pp.; Ormsby with allied families of Abbe, Knowlton, Carpenter and Griswold, of Massachusetts and Rhode Island, 22 pp.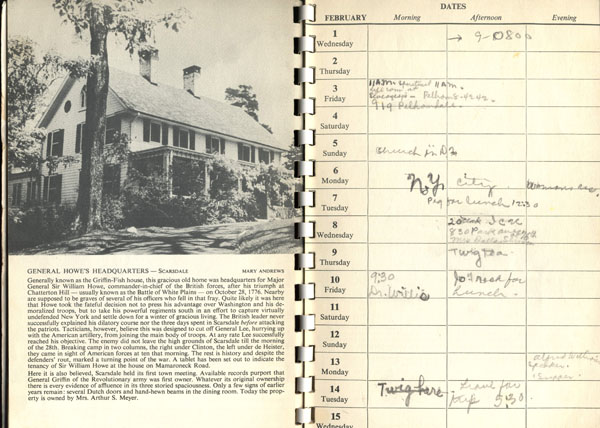 Westchester, a New York State Date Book, historical photographs