Charleston County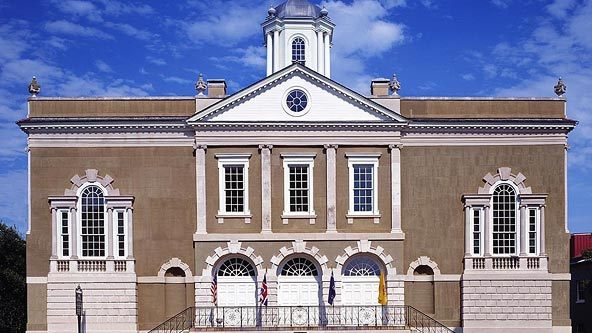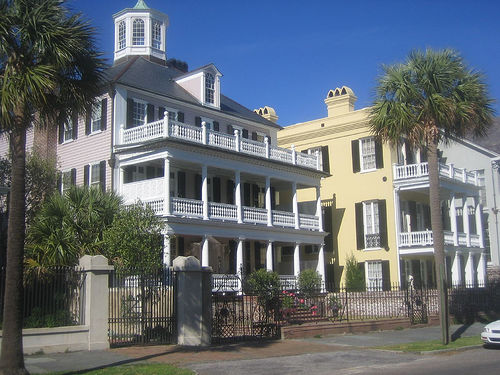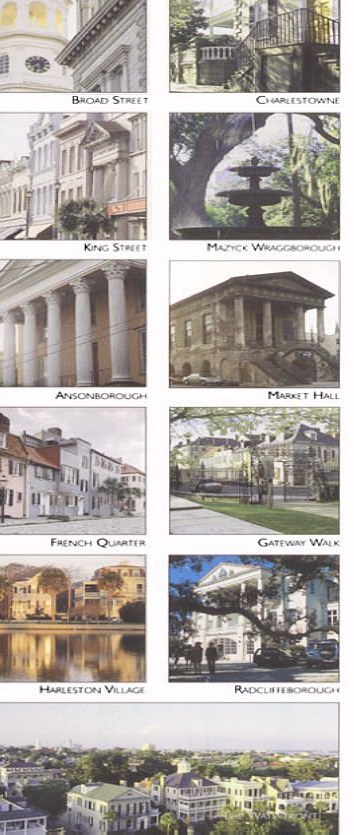 Charleston and Charleston County represent the earliest productive economy in South Carolina. English settlers arrived in the colony as early as 1670 and established a town at Albemarle Point on the west bank of the Ashley River. Then Charles Town, named in honor of King Charles II of England, was built a few miles away between the Ashley and Cooper rivers. Charles Town (renamed Charleston in 1783) was the political, social, and economic center of the South throughout the colonial period, becoming the antebellum capitol of the state capital until 1790. Charleston District was formed in 1769, but portions were later split off to form Colleton (1800) and Berkeley (1882) counties. Charleston County of today includes the old parishes of St. Philip, St. Michael, Christ Church, St. Andrew, St. John Colleton, and part of St. James Santee. It was the English and French Huguenot settlers and their African slaves who established the prosperous rice and cotton plantations of the eighteenth and nineteenth centuries. In fact, some of the first Georgia colonials ran away to Charleston so that they could establish agricultural plantations using slave labor. In essence, Charleston represented civilization to the colonials. In June of 1776, Charleston found itself embroiled in the Southern Campaign of the Revolutionary War and handily defeated the attacking British fleet. A palmetto log fort (later named Fort Moultrie) on the island of Sullivan Island cannonaded British causing them to retreat. During the War Between the States when federals were fired on at Fort Sumter by Confederate forces in April 1861, this act signalled the start of the war.
Early settlers: Charles Cotesworth Pinckney, General Andrew Pickens, Colonel Robert Anderson, Captain Robert Maxwell, John Bowen, Major John Ford, John Hallum, William Johnson, John Lewis Gervais, Ralph Atmar, George Bampfield, Lewis Newhouse, John James Himely, Edward Trescott, James Bentham, Moses Tomlin, William Moultrie, George Ringland, Jacob Drayton and others.
Charleston County Wills, Estates, Records Available for Members of South Carolina Pioneers
Edisto Island, Assessments of St. Paul's Parish, 1732
Charleston Residents who applied for Florida Land Grants in 1767 (a record filed in the Scottish Land Office)
Charleston Index to Wills 1761-1762.
Charleston Index to Wills 1740-1747.
Charleston Index to Wills 1747-1752.
Charleston Index to Wills 1757-1760.
Charleston Index to Wills 1760-1771.
Charleston Index to Wills 1834-1845
Digital Images of Wills 1800 to 1803
Abraham, Emanuel; Allen, Samuel; Anderson, Archibald; Ashby, Magdalene; Atwell, Ichabod; Axson, William; Bagus, George; Barksdale, Thomas; Bennett, William; Benvist, Samuel; Blackman, Sarah; Blake, Charlotte; Blake, John; Blondel, Peter; Bonneau, Benjamin; Bonneau, Francis; Branford, Elizabeth; Brown, Edward; Bull, John; Burdett, Robert; Burke, A. E.; Bush, Isaac; Byart, Catherine; Calwell, Henry; Capers, Gabriel; Carfield, Richard; Casey, John; Castinel, Mark Anthony; Cerra, John; Castell, Sarah; Chanler, Isaac; Chapman, Sarah; Chartier, John James; Clark, John; Clitherall, James; Cohen, Jacob; Cook, Elizabeth; Crawford, William; Dearington, Thomas, Hannibal, slave of; Deas, Elizabeth; Debesse, William; Desrivaux, Boutinot; Dubert, Godfrey; Eden, Joshua; Elmore, Jesse; Erving, Adam; Ethridge, Sarah; Fabre, John; Ferrans, John Gordon; Fickling, Jeremiah; Filbin, Charles; Flagg, Henry Collins; Fogartie, Francis; Foster, John Robert; Freare, Sarah; Frink, Paul; Gaillard, John; Guerin, Esther; Guist, William; Haggat, Panny; Harvey, Dorcas; Heffing, Henry; Hill, Elizabeth; Hope, John; Hopton, Sarah; Huger, Binkey; Huger, Francis; Humphrey, Benjamin; Ivy, Abraham; Izard, Charlotte; Jenkins, Daniel; Johnstone, William; Jones, Francis; Kennedy, Andrew; Kennedy, John; Killin, James; Lane, Margaret; Laurens, Henry (petition); Laurens, Peter Lebby, Nathaniel; Legare, Francis; Legare, John; Legare, Isaac; Legare, Thomas Sr.; Liber, Elizabeth; Livingston, Eleanor; Lovett, Samuel; Lowndes, Edward; Lowndes, Rawlins; Lyon, John; Maret, Lewis; Marquis, Elizabeth; Mason, William; Matherves, Peter Basnett; Maybank, Peter; Maxyck, Benjamin; Maxyck, Richard; McCall, John; McCorkell, Thomas; McIver, John; Miller, William; Mills, William; Mintzing, Anna Maria; Mitchell, William Osborne; Moore, John; Morgan, William; Muirhead, James; Newman, Reuben; Parker, John; Parmenter, Joseph; Patiot, Phillipe; Paterson, George; Perry, Edward; Phipps, John; Pickling, George Sr.; Pierredon, Collins; Pilsbury, William; Player, Thomas; Porcher, Philip; Postell, Susannah; Power, Nicholas; Red, James; Remington, John; Rivers, Elizabeth; Rivers, Joshua; Roberts, John; Robinson, John; Robinson, Septimus; Rose, Alexander; Ross, Jane; Row, George; Rowan, Mary; Rumpy, Christopher; Selby, George; Shelter, Charles; Shutterling, Maria; Silberg, Nicholas; Sinclair, Daniel; Singleton, Thomas; Sinkler, Thomas; Smilie, William; Smith, Robert; Solomon, Hyam; Solon, Margaret; Spidel, Everhart; Stevens, Jane; Swain, Luke; Swinton, Margaret; Taylor, Charles; Taylor, George; Thorney, William; Tilley, John; Timothy, Robert Smith; Trevant, Theodore; Unselt, Henry; Valkinburgh, Martin Pan; Vivier, Pierre Bournon; Wall, Mary; Ware, Gray; Ware, Joshua; Waring, Sarah; Wigfall, Joseph; Williams, Sarah; Wilson, Sarah; Wolf, John Frederick; Woodbridge, Robert; Woodman, Edward; Wragg, Dick
Digital Images of Wills 1818 to 1819
Testators: Arthur, George ; Averell, Henry ; Baas, John; Baron, Alexander; Brown, Elizabeth; Campbell, Elizabeth; Campbell, James; Cattle, Barsheba; Caught, Mary; Coburn, John; Cochran, Susanne; Collins, Susannah; Cooper, Charles; Cooper, Robert; Costa, Fred P. ; Daughtry, Charles ; Dickson, Thomas; Doyle, Thomas; Doyles, Patrick ; Dresler, Hans Joachim; Dutart, John; Faber, John Christopher; Ferrall, William ; Fraser, Judith ; Freeman, Elizabeth ; Freeman, Richard ; Fuller, Jannet ; Gadsden, James William; Geddes, Henry; Gibson, John; Grimki, John F.; Gumont, Peter ; Hay, Susan S.; Horlbeck, Catherine; Hoyt, Thomas; Huger, Martha ; Izard, Esther ; Lafar, Joseph D.; Lang, Robert ; Lechais, Josephine ; Lutze, Bernard ; Lyon, Mordecai ; Mathews, Thomas ; Mikell, John ; Mitchell, Ann ; Mitchell, James D. ; Mitchell, Sarah; Moore, Ann ; Morgan, Edward Bullard ; Murray, Joseph James ; Nesbitt, Abigail ; Parker, Martha; Parker, Sarah; Power, Edward ; Price, William Jr.; Ravenal, Stephen ; Reid, John; Reynolds, William; Rodriguez, Mary; Rousell, Elizabeth; Rutledge, John ; Schwartz, John ; Serjeant, M. L.; Sherman, George W.; Sheviely, George ; Simons, Keaton Lewis ; Smith, Anne D. ; Smith, Barbary; Smith, Morton Wilkes; Smyth, Helen ; Stewart, Rebecca Bud ; Sweeny, Patrick ; Taylor, Paul ; Thomas, Mary Magdalena Inglis ; Todd, Patrick Savage; Trescot, Edward ; Vincent, Thomas ; Waring, Mary; Wells, Moses; Wilkes, John; Wilkinson, Susanna; Witten, Peter Robert ; Wood, William E.
Digital Images of Wills 1820
Testators: Airs, George ; Ashe, Elizabeth; Bennett, Henry; Bird, Sarah; Black, William; Bonneau, Elizabeth; Brooke, Sarah; Bryan, James; Buchanan, Peter; Calder, Henry; Champneys, John; Chart, William; Clark, George; Clark, James; Cockfield, Mary; Coleman, Patrick; Cordear, Peter Augustus Florimon; Crafts, William; Crammer, Margaret ; Crocker, Francis Shaw; Croft, Peter; Dennison, James; De Norray, John Charles Francis; Dowling, Edward; Drayton, Charles; Edwards, John; Faber, John C. Jr. ; Flinn, Andrew ; Frink, Thomas Blodget ; Gensell, John; Hallum, Mary; Heyward, John; Hichborn, Elizabeth; Hill, Henry Duncan; Hollinshead, Sarah; Holmes, Elizabeth; Holmes, James; Horry, Thomas; Huston, James; Jarmas, John; Jenings, Mary Margaret ; Jenkins, Eliza ; Karwon, Thomas; Ladson, Judah; Lamb, Thomas; Manigault, Charlotte; Marshall, John; Mathews, Sarah ; McClure, Cochran; McGill, Samuel ; Miller, Eliza; D'Oyley, Daniel ; Palmer, Mary Ann; Patterson, John ; Peak, Oliver D.; Perry, Susanna ; Poppenheim, Lewis; Pressley, William ; Pring, James ; Ralston, Robert; Ramadge, Francis; Ravenal, Paulde St. Julien ; Rivers, Sarah; Robertson, Francis; Rodgers, Charles ; Russell, Mary; Russell, Nathaniel ; Scott, William ; Simons, Catherine; Stobo, Morton ; Tanner, Edward ; Tone, Peter ; Webber, William ; Wigfall, Constantia ; Williman, Jaoob; Wilson, Hugh ; Woodscruffe, Elizabeth; Wythe, Peter and Yates, Samuel
Digital Images of Charleston County Wills 1821 to 1823
Testators: Abraham, Mary; Allen, Stephen; Baker, Susannah; Ball, Martha; Barnstein, John Henry ; Bellamy, Esther; Beur, Richard ; Bixby, Joseph; Bollough, James; Boyd, William Robert ; Brailsford, Mary; Brisbane, William; Broughton, Philip Poucher ; Bull, William Stephen; Burger, Charles; Cambridge, Elizabeth; Campbell, Hugh George; Cantley, Roger G. ; Cape, Mary; Carroll, James Parsons ; Chapelin, William ; Chisolm, Robert ; Cleaper, Charles; Conova, Eliza ; Cooke, William ; Cornwall, Sarah ; Cousuiaus, Benjamin ; Creighton, Perth; Cunnington, Elizabeth Sophia ; Danjou, Louis ; Dautherean, Romain Marie ; Deas, Henry; de Tottenase, Charles; Doyle, Grace ; Drayton, John; Durr, John; Duvall, Catharine; Earnest, Barnet; Edwards, Rebekah ; Egleston, John ; Elliott, Amerinthea; Ellis, Benjamin ; Foster, Sarah; Figuers, Peter B.; Firsch, Carl Wilhelm ; Florin, Henry ; Frisch, Elizabeth ; Fullerton, Elizabeth; Gadsden, Thomas ; Gardner, John ; Gist, States ; Glover, Wilson; Gourdine, Samuel; Greenhill, Hume ; Greenwood, William; Gregorie, James ; Haggin, Hester ; Haig, Robert ; Happoldt, John George; Harris, Tucker ; Hasell, Andrew; Hazyek, Elizabeth Charlotte ; Henley, John ; Heyward, Samuel ; Holmes, John; Huger, Charles ; Huggins, Jacob Bonhart ; Humbert, Elizabeth ; Hunt, Joseph; Hurman, Henry; Hutchinson, Esther; Hutchinson, Mary ; Huxford, Harlock ; Jacks, James ; Jauden, Elijah Jenkins, Susanna Johnson, John Kenigmacher, Adam Kennedy, Peter Kugley, John Lamb, David Laurens, Mary Laws, Robert Sr. Lee, Mary Leger, Elizabeth Mary; Levy, Sarah; Lockwood, S. ; Lord, M. ; MacBeth, James ; Mair, James; Mazyck, Benjamin ; McCall, John Ward ; McDowell, John ; McIntosh, Esther; McLeod, Donald ; Miller, James; Moce, William ; Moncrieffe, John ; Moods, Peter ; Morrison, John; Moses, Lyon; O'Reilly, James; Palmer, Thomas; Parker, Thomas; Peak, Elizabeth; Peak, John; Pepper, Ann; Pepoon, Benjamin ; Percy, William; Peyre, Floride; Pillet, John; Pinckney, Thomas Susanna ; Postell, William; Radcliffe, Lucretia Constance ; Ravenal, Paul ; Ravenal, Rene ; Raymond, William H. ; Reeves, Aeneas; Reynolds, Mary E. ; Ross, Hugh ; Rutledge, William; Ryckbosch, Francis ; Sampayiac, Theodore ; Se Chevalier, Oliver ; Sinia, Francis; Smith, Laben ; Smith, Mary Ann ; Smith, Peter ; Smith, Thomas; Smith, William Sr. ; Spinar, Josse ; Swinton, Susannah ; Tebout, Judith; Tellooce, William; de Tottenase, Charles; Thomas, John; Thorne, John; Tucker, Mary ; Villiponticeaux, William D.; Vinkler, Margaret ; Vinning, Samuel ; Ward, Mary Grimki ; Warley, William ; Wells, Elizabeth; Willet, Jacques Rou ; Williams, Abimeleck; Wilson, Robert; Windsor, Thomas, Capt. ; Yates, Joseph ; Young, William Price
Digital Images of Wills 1834 to 1839, Part I
Testators: Ball, Elias; Barton, Mary Ann; Black, John; Brinkman, Adolph; Broughton, Ann; Broughton, Elizabeth Demaris; Buerhaus, Herman Frederick; Bull, Elizabeth; Calder, Billy; Coburn, Jane M.; Cruikshank, William; Cusack, Peter ; Daingerfield, William; Eggart, Juliet; Fair, William ; Ferris, Sarah; Fickling, Isaac; Florim, Elinore Marie, widow; Ford, Jacob; Gibbs, William; Gibson, James; Gordon, John; Grimke, Thomas; Harvey, Arnold; Hohn, Charles;Horden, Elizabeth; Huger, Ann; Hutchinson, Elizabeth Love; James, Mildred; Jones, Margaret ; Jones, Mary; Johnson, William; Joyner, Rebekah; Lafforge, Marie; Levy, Lyon: Lockleer, Stephen ; McPherson, James Elliott; McPherson, Susan; Miller, Mary; Moer, Thomas; Oats, Mary; Parker, Wellington; Porte, John; Price, Ann; Pricher, Conrad; Primerose, Catherine; Ravina, Joseph; Rivers, Samuel; Smith, Agnes ; Snowden, Ann ; Tardiff, William ; Taylor, William ; Vale, Elizabeth; Venning, Nicholas ;Warley, Elias ; Whilden, Elias; Wyatt, John
Digital Images of Wills 1834 to 1839, Part II
Testators: Allen, Alexander ;Anthony, Mary; Arnold, Amos; Bailey, Charles; Baker, Richard; Bean, James; Black, Thomas; Boudo, Heloise; Boon, Charlotte; Brady, John;Broughton, Daniel; Burrell, William; Cahusas, Ann ; Chisolm, George; Christie, Joanna; Clark, Ann; Collins, Margaret ; Course, Isaac; Cruikshanks, Daniel; Curry, James; Cuthbert, James; Damascke, Martin; Dart, Elizabeth Martin; Dempsey, Myles; Desgraves, Peter Thomas; Dickson, Mary; Duval, Peter; Eden, Edward; Evans, Susan; Elyman, Christian; Eude, Louis; Fash, Leonard; Faulling, Thomas; Ferguson, Ann; Freeman, Richard; Gefkin, Christiana ; Gill, William; Goodrich, Ann ; Guardeau, John ; Guillard, Augustus Theodore; Gyles, Mary; Gyles, Rosina; Hamilton, John; Hanscome, Joseph; Harleston, Anna; Henry, George; Hewett, Thomas; Hickman, Joshua; Hines, Joseph; Holmes, Elizabeth; Howe, Mary; Huger, Charlotte; Hunter, Margaret; Jacobs, Hyman; Jacoby, George; Johnston, Alexander ; June, Cornel; Kennedy, William; Kirkland, Marianne; Knox, Walter; Kochler, Jacob; Lamb, Isaac; Lagare, Mary; Lawson, Charles; Lining, Polly; Lockwood, Joshua ; MacKennie, Elizabeth; McCalla, Sarah; McDonald, Sarah; McLean, James; Mellard, Elisha; Mitchell, Margaret; Morley, Susan; Murrell, Martha; Nicholson, James; Nowell, Margaret; Porcher, Julia; Poulton, Rachael; Purcell, Ann; Quinlan, Mary; Ravenol, Daniel James; Rembert, Isaac; Revell, Hannah; Rivers, William; Roberts, Elizabeth; Roche, Edward; Rolando, Isabella; Rouse, Lewis; Ruddock, Susannah; Rutledge, Mary; Ryan, Elizabeth; Stapleton, Mary; Stock, Margaret; Street, Martha; Swenton, William; Tavel, Charles; Timmons, George; Wallace, Ann; Wasley, Ann; Wayman, Francis; Wilkie, William; Wilkins, Martha Charlotte; Willson, Charles; Woolf, Rachel
Digital Images of Wills 1839 to 1845
Testators: Akin, Eliza; Anderson, James; Anderson, Kennedy ; Ashe, Abraham; Baker, Sarah; Barnett, Samuel; Baron, Alexander; Bateman, Isaac; Belluigall, Margaret; Bennet, Sophie; Benson, Lawrence; Biglow, Lyman; Blair, Elizabeth; Blake, Harriet; Blanding, Abraham; Boone, Sarah; Boykin, Fitzgerald Glover; Brown, James; Brown, Sarah; Bryan, Lydia; Buckley, Maria; Burbage, Daniel; Chanel, Anthony; Chisolm, Marianne; Clark, Aaron; Cleary, Catherine; Clifford, Henry; Cobia, Ann; Cockfield, John; Collins, John; Cromwell, Samuel; Dacourt, Don Fransisco; Davies, Daniel; Davis, Eliza; Daws, Catherine; Dawson, Drayton; Delany, Michael; Doyle, Edward; Drayton, Sarah Maria; Drayton, Rebecca; Duncan, Patrick; Dupont, Joseph; Dupree, Frances; Edwards, Charles; Edwards, Edward Holmes; Edwards, Mary; Elliot, William; England, John; Ferguson, Eliza; Ferris, Henry; Flinn, Eliza; Francis, Edward; Fraser, James; Fraser, Susan; Gants, Ann; Gates, John; Glen, Margaret; Glover, Joseph; Goldberg, David; Graves, Charles; Green, Mary Ann; Greer, Maria Augusta; Grimke, Mary; Gunther, Phyllis; Hall, Sarah; Hamilton, Harriet Cleland; Hamlin, Sarah; Hayden, Jane; Hayne, Robert Y.; Hill, Mary; Hillman, Ann; Holloway, Richard; Hutchinson, Sarah; Jackson, Rebecca; Jenkins, Martha; Johnson, Jane; Johnston, James; Johnston, William; Jones, William; Kelly, Mary; Kershaw, Frances R.; King, John; King, Mary; Kirkpatrick, Andrew; Lee, Thomas; Maillard, Ann; Marks, Joseph; Martin, Rebecca; Martin, Samuel; Matthews, Mary; Maybank, Joseph; McAlpin, Mary; McBride, Ellinor; McDonald, Christopher; McDow, William; McFarlane, Catherine; Miller, Catharine; Mitchell, Elizabeth; Mitchell, James; Milligan, William; Moore, Elizabeth; Morrison, Simon; Myers, David; Noble, Mary; O'Neil, John; Palmer, Harriot; Peter, Vincent ; Porcher, Thomas; Postell, Glen; Prioleau, Samuel ; Pringle, John; Provost, Joseph; Ramsay, Martha; Rogers, Charles; Rose, Hugh; Ruger, Valentine; Rutledge, Francis; Ryan, Lawrence; Scheels, Wade Hampton; Scott, William; Sloan, Allan; Smith, Ann; Smith, John; Steele, William; Thomas, Betty; Thompson, John; Tidyman, Hester; Tovey, Henry; Townsend, Daniel ; VanRhyn, John ; Veree, Elizabeth; Walker, John; Walker, John Falls; Wall, Richard; Wallis, Margaret; Ward, Elizabeth; Washington, Joshua; Watson, John; Week, Joseph; Wheeler, Ann; Wigfall, Thomas; Wilkins, Martin; Witter, Susannah ; Wood, Edward ; Wright, Robert; Young, William
Digital Images of Charleston County Wills 1845 to 1846
Names of Testators: Akin, James ;Allan, Sarah ;Ashby, J. A. ; Barquet, Barbara; Beckhard, P. ; Booth, Margaret; Brailsford, Susan ; Burger, Samuel ; Caldwell, William ; Catherwood, J. J. ; Clarke, Charles ; Cooper, Nathaniel ; Dalton, Frances ; Danney, Mary ; Dibble, Andrew ; English, Henry ; Fife, Isabella Mary ; Francisco, Caroline ; Frazer, Elizabeth ; Fryer, Julia ; Gelzer, Sarah; Gough, Rebecca ; Hall, Suzanna ; Hood, Robin ; Husemeyer, W. H. ; Innes, John ; Jeffords, Charles; Jervey, Thomas ; Kiddell, Rachel ; LaRoche, Richard; Leebeck, Dederick; Leseiggneur, Vincent ; Lining, Richard ; Lord, A. B. ; Lusher, Sarah ; Marshall, Jane ; Mathewes, Mary ; Maxton, Jane; Middleton, Sarah ; Michel, Francis; Middleton, Henry; Mikell, Ephraim ; Mikell, Providence ; Pringle, Ann Amelia ; Rentz, John ; Rogers, Priscilla ; Seabrook, Henry ; Smith, Elizabeth ; Smith, Susan ; Thompson, Mary ; Umminsetter, Maria ; Walsted, Job ; Wells, Dianna ; Williams, Isham ; Winthrop, Mary
Charleston County Miscellaneous Wills, Estates, Deeds (Digital Images)
Ash, John(LWT)
Butler, Elizabeth, LWT
Butler, George, LWT
Butler, Richard (LWT)
Butler, Shem (1723 estate)
Butler, Thomas, LWT (1747)
Butler, Thomas, LWT (1747)
Caliote, James (estate)
Crosse, Mary (LWT)
Cunningham, Patrick, plat and deed; Hugh Brown deed (1774)
Dannelly, Edward, LWT
Dickson, John, LWT
Elliott, Ralph, LWT
Elliott, Stephen, LWT
Fitch, Stephen, (1750) LWT
Fitzgerald, Thomas(LWT)
Greenland, John, LWT
Hamilton, Pringle, LWT
King, Jeremiah Jr. (LWT)
LaRoche, James (LWT)
Roberts, Edward (LWT)
Sinckly, Sarah (LWT)
Symmonds, Henry (LWT)
Ward, John (LWT)
Youngblood, David (LWT) 1790
Youngblood, Peter (LWT) 1796
Follow us by Email. Just add your Email below
More South Carolina Databases
Suggested Books for Genealogists:
City Directories for Charleston, South Carolina for the Years 1803, 1806, 1807, 1809, and 1813 by Hagy
Charleston, South Carolina City Directories for the Years 1816, 1819, 1822, 1825, and 1829 by Hagy
Charleston, South Carolina City Directories for the Years 1830-1841 by Hagy
Directories for the City of Charleston, South Carolina for the Years 1849, 1852, and 1855 by Hagy
On the Eve of the Civil War: the Charleston, SC Directories for the Years 1859 and 1860 With Additional Information from the City Census of 1861 by Hagy
People and Professions of Charleston, South Carolina, 1782-1802 by Hagy
Passenger Arrivals at the Port of Charleston, 1820-1829 by Holcomb
List of French and Swiss who settled in Charleston, on the Santee, and at the Orange Quarter in Carolina by Ravenel
Marriage Notices in Charleston Courier, 1803-1808 by Salley