Laurens County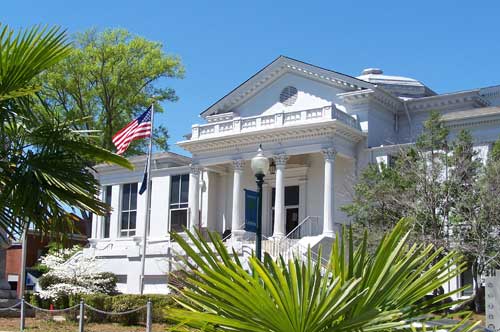 Governor's Mansion.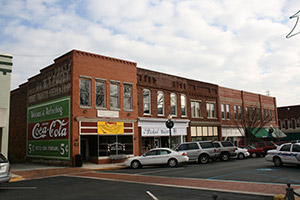 Laurens, South Carolina.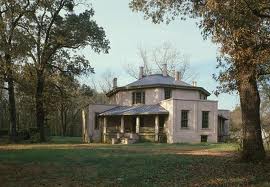 Octogan house in Laurens, South Carolina. Laurens County was established in 1785 as part of the Ninety Six District. It was named for Revolutionary War leader Henry Laurens (1724-1792). Settlers were Scotch-Irish and English immigrants who came in the early eighteenth century. When Revolutionary War battles such as the battle of Musgroves Mill on August 18 of 1780 were fought in the county, it was discovered that many of its residents were loyalists.
Early Settlers: McCain, Drew, Kellett, Miller, Millwee, Hellans, Allison, Prather, McNight, Logan, Cunningham, Ferguson, Adair, Baugh, Lewis, Starnes, Musgrove, Fowler, Arnall, Armstrong, Walker, Akins, Fowler, Garner, Dunlap, Simmons, Bailey, Griffin, Montgomery, Mahaffy, Coker, McCrary, Green, East, Crage, Stevens, Johnson, Goodman, Pollock, Garrot, Holcomb, Day and Middleton.
Wills and Estates Available to Members of South Carolina Pioneers
Laurens County Will Book A (1787-1789), abstracts
Laurens County Will Book C (1797-1807), abstracts
Laurens County Will Book D (1799-1817), abstracts
Laurens County Will Book E (1819-1825), abstracts
Index to Laurens County Will Book A (1766-1802)
Index to Laurens County Will Book F (1826-1834)
Digital Images of Wills, Book E, 1836-1839
Names of Testators: Allen, Sally ; Anderson, David ; Beal, Even ; Bell, David ; Blakely, James ; Calhoun, John ; Cheek, Ellis ; Cole, Mary ; Cummings, John ; Dunlap, Matthew ; Goodwin, William ; Hamilton, Jane ; Jones, Edward ; Leek, Bryant ; Leeman, Hugh ; McClintock, Martha ; McCoy, John ; McMeese, Robert ; Middlesperger, Abraham ; Pool, James ; Poole, Seth ; Potts, William ; Reece, William ; Robeson, Bennet ; Simpson, Sarah; Swan, Rebecca ; Wait, John ; Watson, Elijah
Misc. Laurens County, South Carolina Wills and Estates (images and transcripts)
Bailey, James, LWT, 1825, transcript
Bennett Richard, LWT, 1820
Brazeale, Enoch, LWT, 1825, transcript
Brown, Roger, LWT, 1825, transcript
Burnside, Thomas, 1825, transcript
Burnside, William, 1825, transcript
Carter, Robert, LWT, 1825, transcript
Cason, John, Sr., LWT
Garey, Charles, LWT, 1805
Garrett, Ambrose, LWT, 1840
Garrett, Hannah, LWT, 1821
Garrett, Jesse, LWT, 1853
Garrett, John, LWT, 1806
Garrot, Edward, LWT, 1794
Glenn, Alexander, LWT, 1825, transcript
Gordon, Ann, LWT, 1825, transcript
Holcombe, Richard, LWT, 1804
Jones, Joseph, 1825, transcript
Knight, Ephraim, 1825, transcript
Man, Susannah, LWT, 1797, transcript
Mathews, John, 1825, transcript
McCurley, John, 1825, transcript
McDaniel, Archibald, 1825, transcript
McGrady, William, 1825, transcript
Meadors, Susannah, 1825, transcript
Mitchel, Judith, 1825, transcript
Nickle, Chortis, 1825, transcript
Osborne, Daniel, 1825, transcript
Owings, Robert, LWT, 1840
Pinson, Aaron, LWT, transcript, 1803
Teague, Elijah, 1825, transcript
Wilson, John, 1825, transcript
Maps
Military
Veterans of Laurens District in 1818 and 1832
Follow us on Email. Use form below